Tourney garb is a 'catch all' term used to describe garments that are not the flashy, expensive gowns that would be expected at a Royal Court. In my case, these are the garments I'll wear when I'm working around the campfire, when I'm running around co-ordinating an event or when the venue is either outside or doesn't have enough room for big skirts with trains.
Just because these garments are a little less showy, it does not mean they were any less work to create. In some instances, because there is so little trim or frou-frou to distract the eye, it is even more important to fit the garment meticulously.
14th Century Manesse Codex tunic

Completed: February 2015, for Canterbury Faire
Inspiration: A number of images from the Manesse Codex
As the Baroness of Southron Gaard, I felt I needed I needed a garment that would work with the Barony's beautiful heraldic mantle, while also proclaiming Southron Gaard all by itself. After considerable research, and the careful pricing of the various options, a tunic based on those depicted in the Manesse Codex won out.
The second purpose for this garment was to prove that it is possible to make a striking and plausibly period garment for very little cost, in the hope this would help encourage participation in the Baronial Heraldic Challenge series. The tunic itself is made of cotton broadcloth in the two main colours of Southron Gaard's heraldry, while the veil and barbette are made of linen (although they too could be made of cotton).
Some of the women's tunics in the Codex have a wide band of contrasting colour (often gold) at the neck and wrist, along with a narrow band at the hem (e.g. fol.32v and fol.312r among others). This arrangement worked well with the colours of Southron Gaard, and I chose to vary from the source material by making my neck and wrist bands crenelated so that the garment would further reflect the heraldry of my group.
Photo by Brooke Perkins
1570s English Gown
Completed: February 2007, for Canterbury Faire
Inspiration: Many sources but primarily Lucas de Heere's picture of Four London Women.
This hand sewn outer garment is a fitted, black wool surcoat with short, puffed sleeves that is fully lined in black linen. It is decorated by strips of black brocade applied like braid and closes using hooks and eyes up the centre front. Gores are used to achieve the fullness in the skirt.
The back collar is cut in one with the back body pieces as a result of comments made by Juan de Alcega (among others). This method works beautifully, resulting in a very comfortable surcoat. Wrinking at the back of the neck is not an issue (as Alcega and previous experience suggests) when a relativley soft fabric like this wool is used.
This surcoat is designed to be worn over my existing middle class clothing of this period and has proven to be an absolutely essential warm layer for camping and overnight events. Not only that, it is ideal for throwing on over top of camp garb in order to 'spiff things up' a little.
Please excuse my crummy photography by timer
Late 16th Century Spanish

Completed: February 2006, for Canterbury Faire
Inspiration: figures depicted in various Civitates Orbis Terrerum maps of Spanish cities
This ensemble was created as I wanted something appropriate for working outdoors around the encampment. As the weather at Canterbury Faire (when it isn't raining) is hot and dry, for that reason I chose to use natural fibres. The outfit consists of a white linen shirt worn under a black fine linen bodice with sleeves and skirt. It is usually accessorised with a linen coif and apron.
I also wanted to experiment with the spanish "manto" or modesty wrap. The manto is described in number of sources (such as Anderson, Alcega and Saavedra) but is seldom seen.
A white paj-silk manto (veil) is worn with a white dupion silk pill-box hat. The silk veil has since been replaced with several metres of light cotton voile because the silk proved too unruly in a breeze. It seems that if it is a modesty garment it should function as such. I have since been able to purchase some suitably fine linen fabric. I have recently purchased 4 metres of black linen voile to make a half-circle 'manto' as described in Alcega.
Photo by Meistern Christian Baier
Late 14th Century French Cotehardie
Completed: February 2003, for extended overseas travel
Inspiration: This gown was inspired by a variety of late 14th Century French manuscripts and the desire for something light and inexpensive to lug around the world in a back pack.
Consequently, it is made from cotton and lined with cotton voile. For weight, the under-sleeves are not attached to the kirtle, but instead hook and eye to the shoulders of the gown itself.
Around my neck I am wearing a gold heraldic dolphin based on one in the collection of the Musee de Moyen Age, Paris. The Pilgrim token is one I picked up at Canterbury (the one in England) when I visited the Cathedral there..
I am also wearing one of my favourite hairstyles based on a manuscript. What you cannot see in the picture above are two more plaits crossed over at the base of my neck as seen in the manuscript.
Photo taken by Peter Grooby at NAAMA 2003
Late 16th Century Turkish Dance Outfit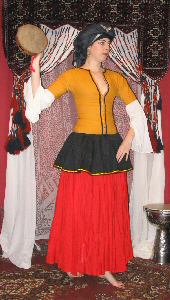 Completed: mid 2001
Inspiration: a number of late period and early 17th Century illustrations, such as this one.
Consisting of black linen shalwar, red linen circle skirt, mustard yellow linen hip length bodice (trimmed with narrow black gimp braid) and a short black linen hip skirt (trimmed with narrow gold satin ribbon) this outfit was made purely for belly dancing at Middle Eastern Guild Haflas.
Contrary to expectations, the fitted bodice provides considerable support without interfering terribly with the movement of the torso. The layered skirts, however, do impact on the dance style. Many small or delicate vertical hip movements are lost under the hip skirt while twisting movements and large, rapid level changes are enhanced.
Photo by Meistern Christian Baier
1530s German Dress
Completed: February 2000, for Estrella War
Inspiration: The exact inspiration for this gown escapes me, but it hit after many hours trawling through Meistern Christianís collection of 16th Century German images.
This dress was an instructional project. My Laurel was taking me (and one of my fellow apprentices) through her method of making German gowns, while also introducing us to the concept of sloper patterns. It was a steep learning curve, but set me up for many later projects.
This gown is made from cotton twill, and the gardes are black wool. The interlining is a supple cotton duck canvas, and red cotton has been used for lining.
This dress was absolutely fantastic at Estrella and could only have been improved with one of those huge German hats to match it.
Photo by Peter Grooby
1570s Middle Class English Outfit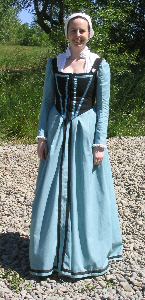 Completed: 1999, for the event at Cracroft
Inspiration: inspired by a selection of images by Steven van der Meulen and Lucas de Heere as well as a lucky find of several metres of linen fabric.
Initially using tied in sleeves, Patterns of Fashions and use convinced me to trial hooks and eyes instead, which has proven convenient, secure and comfortable. The skirt uses lightly flared drops and is pleated into a narrow waist band that sports a number of hand worked eyelets. The skirt and bodice are tied together prior to wear.
After first wearing this outfit with a farthingale, I decided to take some length out of the skirt and make it a working class outfit in order to reconcile the dress style with the fabric. (This remodelling was influenced by a variety of images including the Fete at Bermondsey and maps from the Civitates Orbis Terrarum.) It has proven to be a very convenient and comfortable working ensemble.
Photo by Meistern Christian Baier
Many of these images were previously seen at http://helois.250free.com
---