I am absolutely fascinated with Spanish Women's Court fashions between the years 1560 and 1590. The elegantly severe, and yet ostentatious gowns are just beautiful.
For a selection of period images showing mid to late sixteenth century Spanish fashions, please visit Amberherthe's Spanish Fashions Pinterest board.
These gowns take a little getting used to, but I enjoy wearing them, in truth only a little more than I enjoy researching and making them. The following are my favourite ensembles from that period.
1590s Brocade Mongil Trancado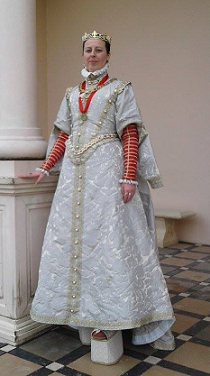 Completed: February 2015, for Canterbury Faire (Worn for final Court as Baroness Southron Gaard)
Inspiration: 1589 Edition of Alcega
I stepped up as Baroness of Southron Gaard in my favourite black satin mongil trancado, and liked the symmetry of stepping down in a new, pale silver mongil.
This dress also allowed me to experiment with a number of new ideas such as some reduced structural elements, a new shape of the bodice point and collar, and new styles of foundation garments (both bodies and using a corded petticoat). Generally speaking, I was rather pleased with the overall effect.
As this garment was designed to be worn at Canterbury Faire, traditionally the hottest event of the year, I again opted to omit the underdoublet in favour of tied on sleeves.
The chopines were made by Sir Callum MacLeod, and the ouches on the necklace and belt were a gift purchased from Truly Hats.
Photo by Sir Callum MacLeod
1580s Cream Satin Gown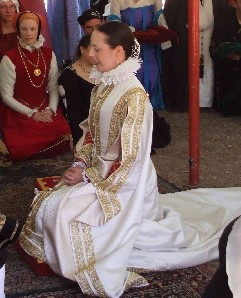 Completed: February 2008, for Canterbury Faire (Worn for Elevation to the Order of the Laurel in Sartorial Arts)
Inspiration: 1583 portrait of Isabel Clara Eugenia by Alonso Sanchez Coello
The gold and cream saya is worn over a red silk undersleeves. (An underdoublet was omitted in favour of sleeves tied to the petticoat bodies in order to prevent overheating in what was proving to be an unsually hot summer.) The ruff is made of white lace stitched to a double layer of cream silk organza, before being pleated in accordance with the patterning of the lace.
Because this was the gown I wore for my elevation to the Order of the Laurel, I wished to wear white and red. These colours are seen in portraits depicting Spanish women between 1570 and 1590 so it was easy to work in with the period use of these colours. The formality of the occasion also seemed to require mangas de punta - the enormous Spanish Great Sleeve - so these were drafted and draped to match portraiture.
Photo by Lord Gilbert de Monfort
1589 Black Satin Mongil Trancado
Completed: July 2007, for Midwinter Coronation
Inspiration: 1589 Edition of Alcega
Probably my favourite frock, this late 16th Century Spanish "laced gown" (often called a "mourning gown" or "morning gown") is made from the intriguing cutting diagrams in Alcega. Since first laying eyes on the pattern pieces for this 'sack backed' gown, I have been determined to make one. However I needed both appropriate fabric and a suitable event at which to wear it.
I chose black satin based on three factors: availability, the frequency of use of black satin in Spanish Women's dresses in portraiture, and the use of black satin in the mourning gown worn by Margaret of Austria (Duchess of Parma) in her portrait by Anthonis Mor.
Black velvet has been used to trim the gown in a manner reminiscent of Spanish Women's gowns shown in portraiture. The belt disappears through small openings at the side waist so that it enhances the front of the gown without marring the line of the back.
Photo by Meistern Christian Baier or Baron Oswyn Carolus
1570s Cutte Red Satin Gown
First Worn: July 2007, for Midwinter Coronation
Inspiration: 1571 portrait of Anne of Austria by Alonso Sanchez Coello, among others
Another Spanish dress, but one showing some variations in the style. The biggest difference between this gown and my others of this style is that it is designed so that it can be worn with the doublet open to the mid chest. It also sports a fold in the front of the skirt just above the hem and the longest train yet...
The de-lustred satin fabric is cutte all over showing the black interlining beneath. I chose to slash the fabric to add interest to the gown. The gown is lined in dark blue linen.
The choice of red fabric was based on several depictions of period gowns, combined with available fabric and the fact that red suits the intended wearer. The decoration of this gown was inspired by a 1571 portrait of Anne of Austria by Alonso Sanchez Coello.
Should you wish to know more about this Spanish Gown and my thought processes or method of manufacture, a pdf of my documentation can be found here.
Please excuse my crummy photography by timer
1589 Wool Ropa
Completed: April 2006, for Rowany Festival
Inspiration: 1589 edition of Alcega
Intended for use as a warm layer for outdoor events, this wool over-gown was created to be worn over my Spanish dresses when the day turns chilly and as an early morning 'about the encampment' coat while preparing breakfast and the like.
The ropa is based on the cutting diagrams available in Alcega with reference the 1570's German loose gown described in Arnold's Patterns of Fashion. This garment is often referred to as a 'Spanish Surcoat'.
A very fine wool fabric has been used for the outer shell of the garment and the lining is black cotton, this was utilised due to a dearth of dark blue or black linen at our local fabric merchants.
I modified the round sleeves from my usual pattern in response to the intended use of the garment and also the wool fabric. As the fabric has little or no body I felt smaller sleeves would sit better than larger sleeves, which would have a tendency to 'flop'. Reducing the fabric and bulk of the sleeves would also reduce inconvenience and safety concerns when cooking around open flames.
Please excuse my crummy photography by timer
1570s Brocade Gown
First Worn: February 2005, for Canterbury Faire
Inspiration: Numerous pictures of Spanish Royalty, however the primary influence was the 1572 portrait of Anne of Austria by Alonso Sanchez Coello
This surprisingly light gown 16th Century Spanish gown was made using a synthetic, but otherwise perfect brocade.
The grey of the dress fabric is further enhanced by a silver metallic-lace neck ruff. Surprisingly that this works in perfectly with the gold braid decoration, and gold belt. In subsequent wearings, I have also worn it with silver and pearl belt.
Further exploring the variations within the quintessential spanish style of this period, this gown has a different falda (train) style, gathered sleeve heads and explores how the cut and construction vary with the use of a different fabric.
Photo by Peter Grooby
1580s Black Velvet Gown
First Worn: October 2004, for the visit of King Draco and Queen Serena
Inspiration: Every portrait of Anne of Austria I had seen up to this point
After several years of searching I found some almost perfect braid for a Spanish gown. The fact that it was on sale made my dream gown affordable. (Especially once I discovered the full extent of my usable hoardings.)
The gown is made from black cotton velveteen, and has a very slight train. (Which is small enough to not be noticed, a lot.) The bodice and sleeves are interlined with multiple layers of cotton canvas. The striped undersleeves are cream silk taffeta decorated with horizontal stripes of inexpensive gold braid. The ruffs are all made of silk organza edged in a delicate lace.
The ensemble is worn over a pair of bodies and a farthingale. The bodies are based on the Dorothea stays while the farthingale is a variation on Alcega's cutting diagram.
Photo by Meistern Christian Baier
Many of these images were previously seen at http://helois.250free.com
---